...THAT STILL ISN'T FIXED! @#PI$&%P!U#HF
Ok so I don't remember if i blogged about this or not but I bought this super nice package from Alternative Adverstising from Gio Studio Salon where I could get a haircut, scalp/neck massage, highlights, plus some other random irrelevant stuff for $60 + $10 product fee and 20% off any other service. This honestly was a bit of an amazing deal seeing as just a haircut in NYC will set you back like $70 soooo I said I'd try it. Plus
I checked them out on CitySearch.com
and they were totally top rated. Even when I got there, everyone had gorgeous hair color. This should turn out great right?
NOOOOOOOOO.
First of all, I don't know what is up with this stylist Ezequiel. I made it very clear that my hair color was *dyed* dark. For those of you who are color virgins this is very significant information as and single lightening process will not work on the dyed part. Bleach or a color removal process is necessary aka a DOUBLE PROCESS. I said, "You're going to need to do a double process right?" And he said yes. NOTE: A Double process is always significantly more expensive, sooo I'm paying top dollar. Yes I get a 20% discount, but its still $160. I expect to come out of the salon looking fly and fabulous.
However...when he was done....I looked like a brassy streaky messsssss. Whenever I get a hair color change, its always a bit of a shock and a bit hard to judge immediately. So I payed and I left a nice tip or whatever (mostly for their shampooer Alfonso who has THE MAGIC TOUCH. I think it was the scalp/neck message a clouded my judgment) and I was in like Loehmans trying to judge it and I was not feeling it. Anyway, when I got home I cried, made a quick run to Ricky's to get some color to dye over it but my mommy talked some sense into me, so I called and scheduled another appt. to have it fixed.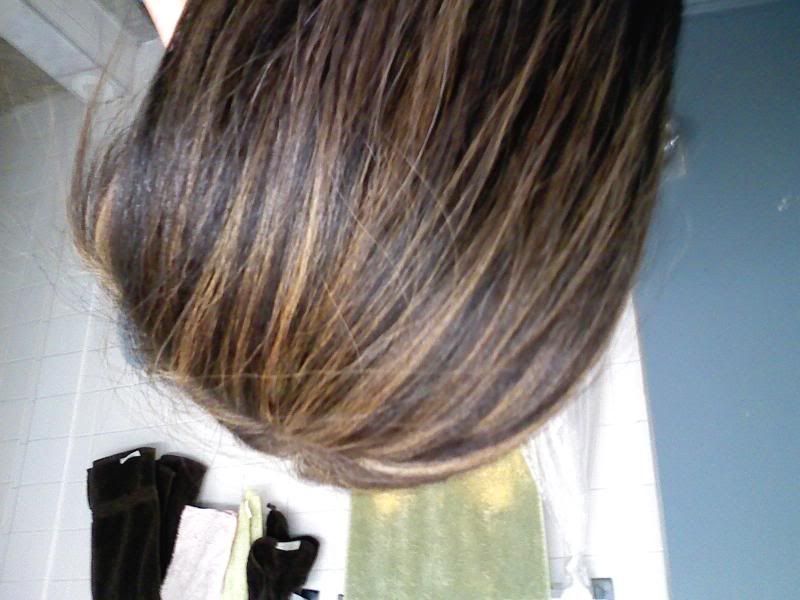 Hmm..it's not so bad you are probably thinking, but this next one really shows the horror!!!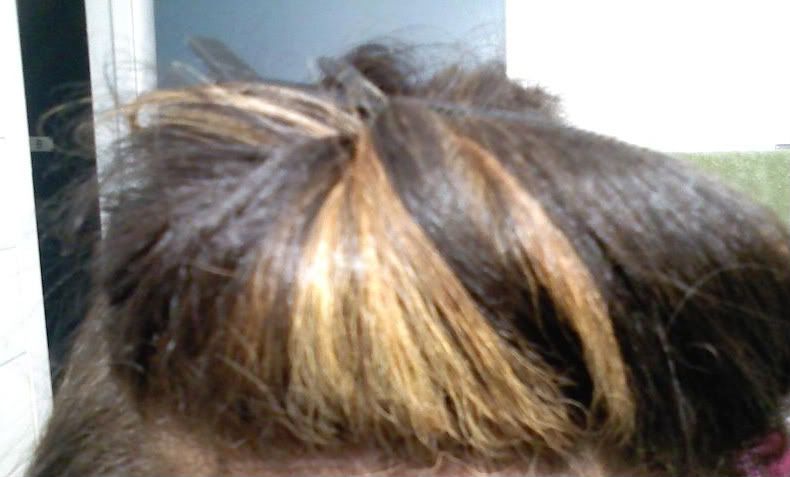 Hot mess!!
WTF?! That doesn't look a thing like this beautiful, rich brown color does it?

NO. IT DOESN'T.
So this is what really makes it. I went back the next day, and it still isn't fixed. My roots are super light, my ends are still too dark, and I still have that brassy mess of highlights through the front. He's afraid to bleach my hair properly or even use a developer more than 15 vol, and I'm like UM WTF DID YOU CHARGE ME A DOUBLE PROCESS FOR THEN? That weak shit isn't going to do what I need it to do. And yet he wants me to get some perm which is more likely to ruin my hair even worse. I don't even know what he did last time. All I know is I'm getting fed up and I'm supposed to go back on Sunday (tomorrow), but I don't think this "Ezequiel" knows what the hell he is doing. If it is not done properly and I don't look like a star, I am demanding a refund so I can so someplace where they know what they're doing and get this fixed. And its going to cost me a fortuneeee I already know. UGH.
:*(